Ralph J. Smit Laravel Software Engineer
I started this website in the first half of December 2020, so now it's up and running for about two months. As I'm myself always interested in the performance and the 'dashboard' info of others, I thought it would be a fair to every now and then share a sort of 'performance report' here. I've compiled some numbers and some screenshots of Google Search Console here, so have fun✌️
I primarily use Google Search Console to get an indication of how my website is doing now. Perhaps that's a bit short-sighted, but I think that Search Console gives me quite reliable information. In this phase, with not that much. traffic, Google Analytics sometimes tends to give too high traffic numbers, as it could also measure one or more visits of me. (PS: pro-privacy guys, sorry to be using Analytics, but I'm really not doing much with it.)
Google Search Console performance
Here you see a screenshot of my Google Search Console 'primary' performance data. Since the start of December, I got about a total of 3,65K views and some 95 clicks (the first little spike in № of clicks is mine☺️).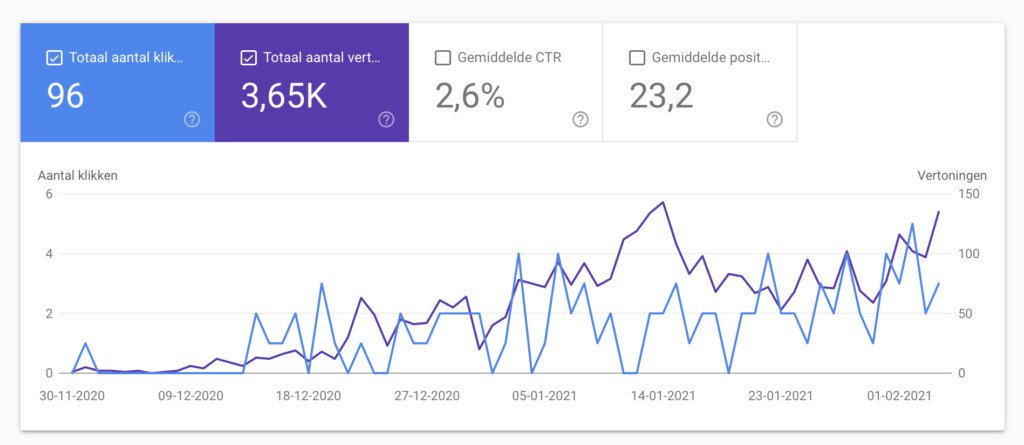 Google Search Console data when I select 'Last three months'. Data starts at 30 November 2020, so what it shows is for about 2 months.
In December 2020, things started to pick up slowly. I ended December with about 50-60 views a day and a CTR of some 3%. The CTR then isn't completely reliable due to the relatively low number of views.
In the first half of January, views rapidly grew to a high on January 14 of 143 views a day. (I tend to see views as a better gauge than clicks, because my CTR tends to keep up quite well and the number of clicks are sometimes a little capricious.)
Between January 15 and January 26 I didn't publish new articles. It seems that that has had some influence on the performance. Starting with January 26, I published three new articles and it seemed that this has a positive influence on clicks.
When I started my blog in December, I had the goal of getting about 60 clicks a month and getting some 80 - 90 views a day. When I view the statistics for the last 28 days, it shows that I got exactly 60 clicks in 28 days and 2,53K views in 28 days. So it seems that I reached my first goal in about two months.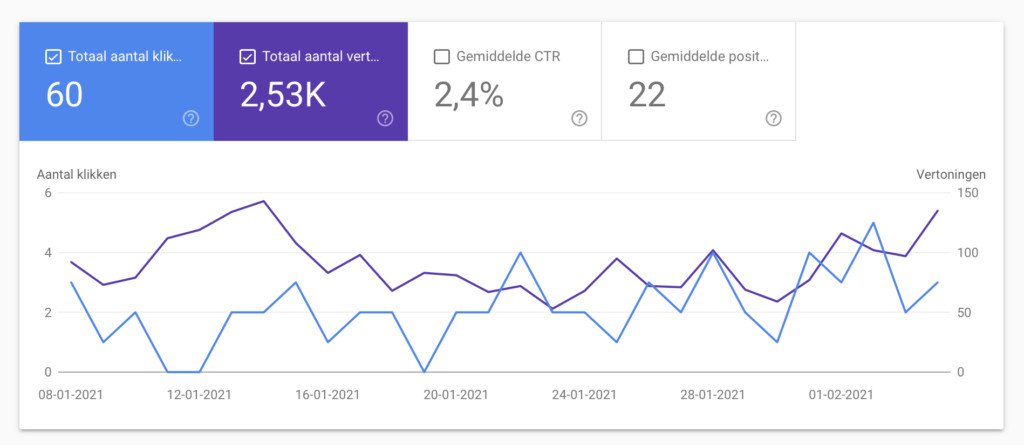 Report for the 'Last 28 days' in Google Search Console. I think this data is quite representative.
Which articles did best?
There are several articles which performed quite good, especially these three:
The first two articles were the initial first articles on my website, so perhaps that has also had an effect. Till now I did little keyword research, but perhaps I'll need to do that better, for some articles do not really contribute to my total search traffic.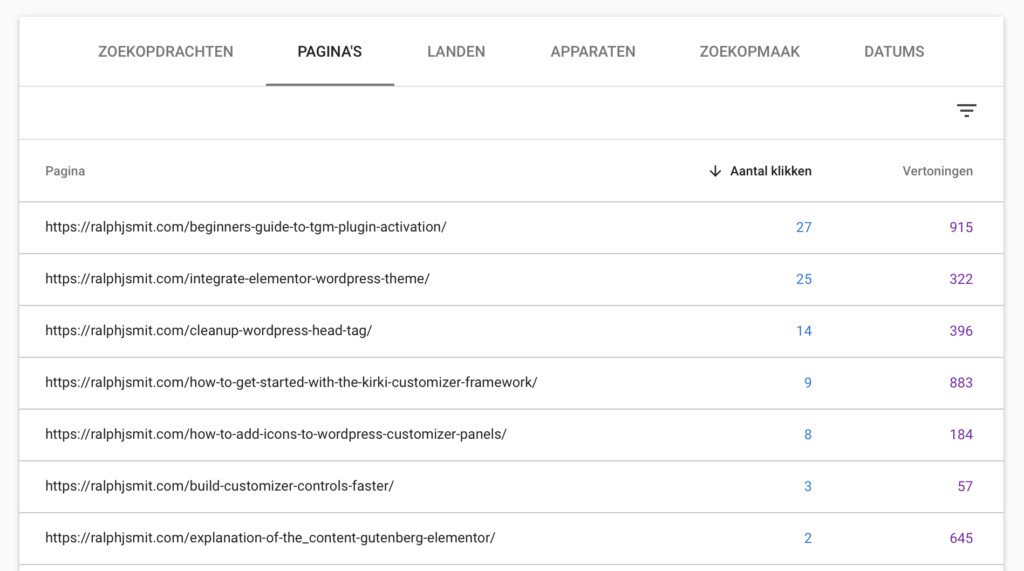 What about other search engines?
You might think where the data from Bing or Yahoo is. I created a Bing Webmaster account at January 22, but that still shows no views and no clicks for this website, whilst an other website of my does show some views. I'm still not entirely sure whether to also create an account for other search engines.
How further?
My next goal is to reach 400 views a day, which corresponds to about 8 - 10 clicks a day. I don't know how fast things will grow, so I don't know when I will reach this goal. In reality, things will be a little higher than this data here, but I don't expect a lot of direct hits or via social media.
Today I also added caching with WP Super Cache, which made my PageSpeed Insights score go up from about 90/92 to 97. Perhaps that 'll also influence search results in a positive way.
What do you think of the performance of the first two months? Is it high, moderate or low for a personal blog? And should I create accounts for other search engines besides Google and Bing? Or do you want to see other specific information or do you have advice? Let me know in the comments🙏👇
Published by Ralph J. Smit on in Website-updates . Last updated on 26 August 2022 .
---